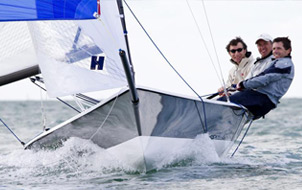 An international brand, Hyde Sails is one of the largest and most respected sailmakers in the world. Backed by 50 years of experience, Hyde Sails has always been at the forefront of sail technology, design and production for everything from Optimists to cruisers to ocean racing yachts. 
Since the company was established in 1965,  Hyde has been committed to delivering high-performance sails of impeccable quality with customer service to match. Whether you are racing or cruising—in dinghies or in yachts—Hyde Sails has the designers, technology, and experience to tackle any sailmaking challenge.
The Hyde Sails production loft in the Philippines is well established, with a highly skilled workforce of over 280 staff, complemented by a trophy-winning design team.  Our production managers and well-trained technical staff work in one of the most modern lofts in the world, using first quality, name-brand sailcloth tested in-house for strict compliance to technical specifications. 
READ MORE >